Burger Hill Park
A favorite local destination for great day of kids winter activities in Rhinebeck. Sleds, Snow Shoes, cross country skiing, and inner tubes welcome! Young and old enjoy the bunny slope (smaller kids hill) and adults enjoy a nice hike to the summit for a great ride down. See kids of all ages attempt to master this monstrous slope. More about Burger Hill Park.
When to visit the Park:
Open Daily at 9 a.m. year-round
Closing time as follows:
8:30 p.m.—spring/summer
dusk—fall/winter
Directions:
From intersection of Route 9 and Route 9G, take Route 9G south for 2.5 miles. Parking area on right. Click Here for Photos.
Christmas Tree Cutting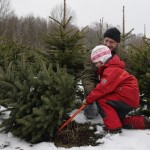 Start a new tradition!  Find a close Christmas Tree Cutting destination for the kids. Make a day of the event and. Click Here to Find Tree Cutting locations…